The Erasmus+ Ecoblue Tourism project has held its final transnational meeting between the project partners in Fano, Italy. The meeting took place on 15 and 16 July and was attended by representatives of all partner organisations: the University of Patras (Greece), Dorea Educational Institute WTF (Cyprus), Training 2000 psc (Italy), the Public Education Centre of Kemer (Turkey), the Centre for Higher Education Future Focus Ltd (Malta), the Association of Galician Entrepreneurs in Aragon and Riberas del Ebro, AEGARE, (Spain). The European and International Projects Office of the FUE-UJI (EuroFUE-UJI), as coordinator of the project, has also attended the meeting.
The transnational meeting in Italy focused on taking stock of the activities and results achieved by the Ecoblue Tourism project during its two years of implementation. The mobile application available for Android and iOs was evaluated, as well as the multiplier events held in the different partner countries of the project.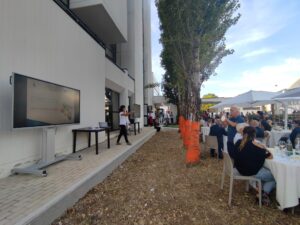 Moreover, the transnational meeting was the perfect occasion for the Ecoblue Tourism project consortium to visit its stakeholders in Italy. Mainly vocational training centres, from which they got to know in depth their training activities. The consortium also participated in a conference to disseminate the project activities at the "Villagio Turistico – Summer Camp" in Senigallia (Italy).