The FUE-UJI has hosted on Wednesday June 23 at 9:30 am the Multiplying Event of the Erasmus + Ecoblue Tourism project coordinated by the FUE-UJI through the EuroFUE-UJI. The results developed within the framework of the project have been presented, which have had the collaboration of the Unversitat Jaume I (UJI), the Castellón Port Authority, the Castellón Provincial Tourism Board, SECOT and the NGO Ilêwasi.
Inmaculada Rodríguez, vice-rector for Students and Social Commitment at the UJI, was in charge of opening the session highlighting "the blue economy as one of the most important niches for entrepreneurship", especially innovative blue tourism. Next, Gloria Serra, manager of the FUE-UJI, presented the Ecoblue Tourism project, which she indicated, "was born directly inspired by this blue economy".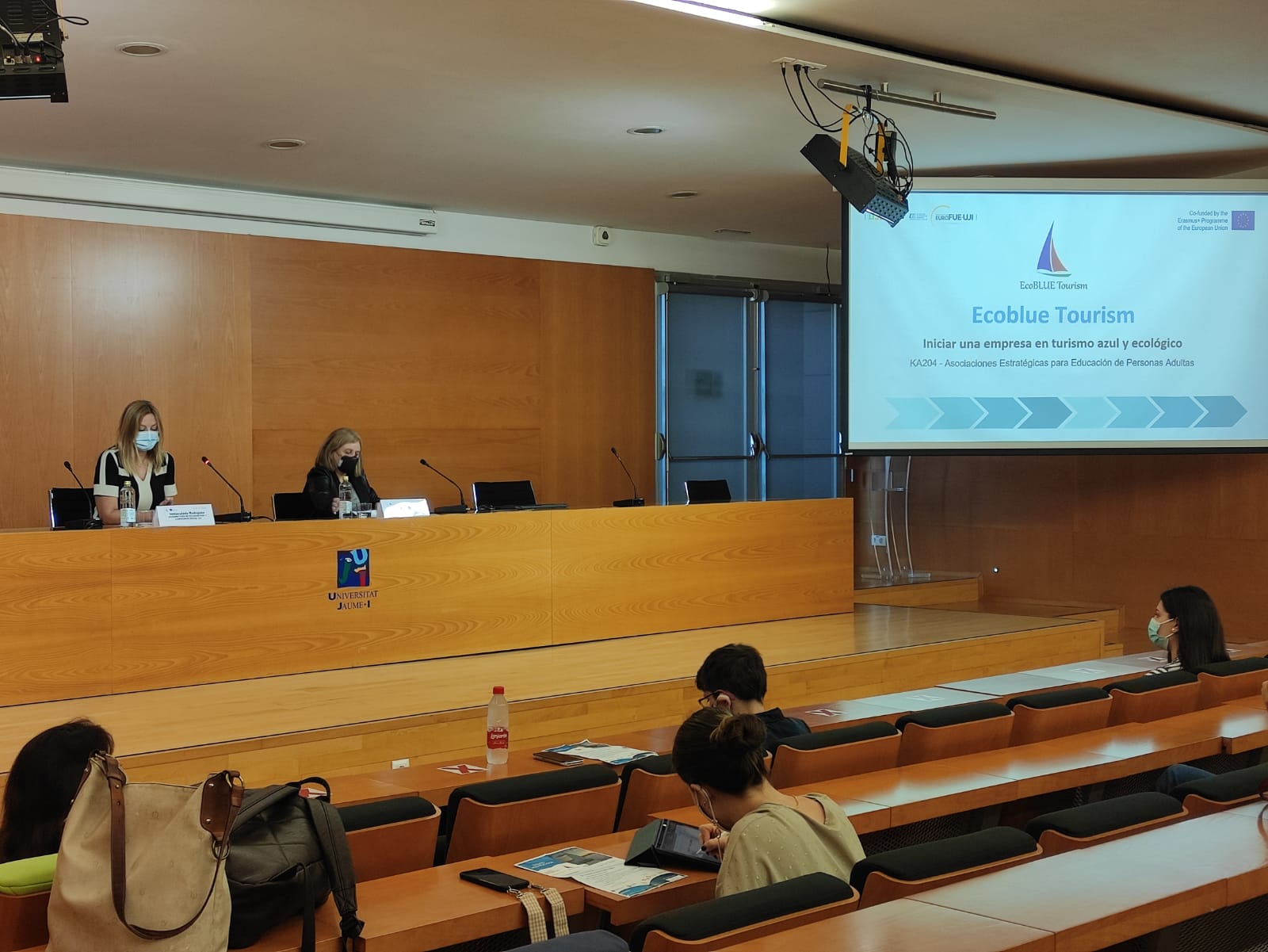 The Ecoblue Tourism Multiplier Event culminates the implementation of this Erasmus + project by presenting its results on sustainable and blue tourism. Nela Gómez, director of the Office of European and International Projects of the FUE-UJI, has presented the Training Guide on business plans in blue ecotourism, and the mobile application Ecoblue tourism. During the session, the characteristics that this App presents and how it can be installed and used by young people who wish to undertake in the sustainable coastal tourism sector have been studied in depth. Anna Tolosa, communication manager and Project Manager, has been in charge of presenting the mobile App to those attending the Ecoblue Tourism Multiplier Event, which is totally free and is available on the Play Store and Apple Store.
Dr. Rosa María Rodríguez, coordinator of the research group of the UJI GETUR (Cabinet of Tourism Studies), also took part in the event, presenting the ingredients for success in terms of sustainable tourism. Rosa María Rodríguez highlighted the Ecoblue Tourism App as a "very interesting tool to start in projects of this type", to which she added "these actions must be in line with sustainable, inclusive, responsible and supportive tourism".